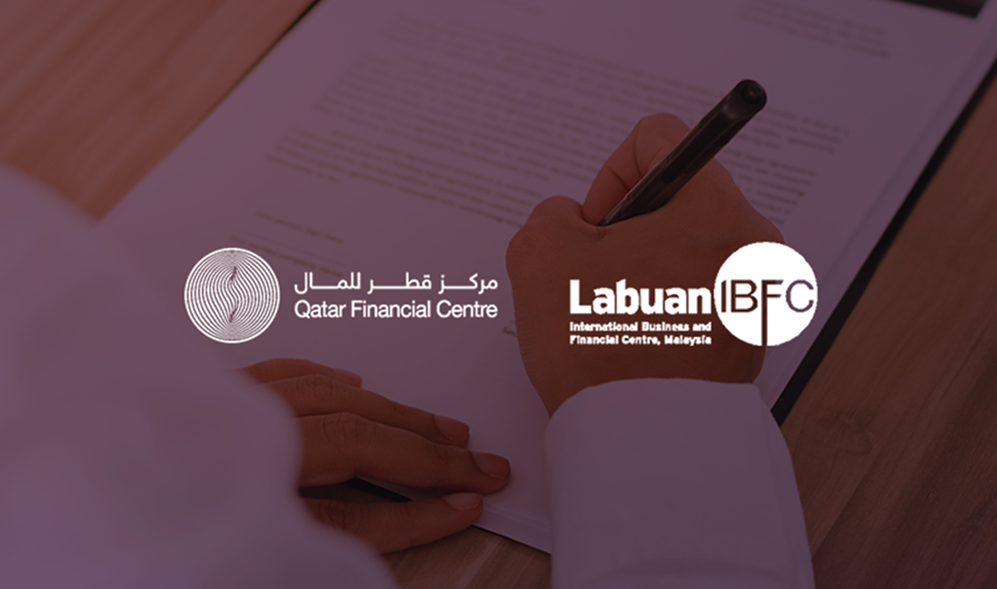 Qatar Financial Centre – Labuan IBFC Partnership Webinar
15.04.2021
10:00 am - 11:00 am
The Qatar Financial Centre (QFC) cordially invites you to attend a webinar marking the synergetic partnership between Qatar Financial Centre and Labuan IBFC.

Strategically located in Asia and the Middle East, Labuan IBFC and QFC respectively play a key role in financial intermediation towards facilitating regional economic growth. By working together, the two financial centres stand to benefit from a synergistic partnership that will boost economic and financial sector ties, unlock access to new markets, as well as expand and elevate the regulatory recognition of the market players in each other's jurisdictions.

The webinar will highlight key areas of collaboration between Labuan IBFC and QFC, followed by a dialogue session on how financial institutions, corporations and intermediaries in both jurisdictions stand to gain from this synergy.

This exciting partnership will be made official via the signing of a Memorandum of Understanding (MoU) between the financial centres. The MoU will be signed by Yousuf Mohamed Al-Jaida, Chief Executive Officer, QFC, and Farah Jaafar-Crossby, Chief Executive Officer, Labuan IBFC Inc.
Agenda


10:00 AM – 10:05 AM (Doha) | Welcome Note & Introduction of Webinar Objectives and Background to QFC- LIBFC MoU

10:05 AM – 10:20 AM (Doha) | Introduction to Labuan IBFC Inc.
Farah Jaafar-Crossby, CEO, Labuan IBFC Inc.

10:20 AM – 10:35 AM (Doha) | Introduction to Qatar Financial Centre
Yousuf Mohamed Al-Jaida, CEO, Qatar Financial Centre

10:35 AM – 10:50 AM (Doha) | CEOs Dialogue and Q&A Session
Yousuf Mohamed Al-Jaida, CEO, QFC &
Farah Jaafar-Crossby, CEO, Labuan IBFC Incorporated Sdn Bhd

10:50 AM – 10:55 AM (Doha) | Virtual MoU Signing Ceremony
Yousuf Mohamed Al-Jaida, CEO, QFC &
Farah Jaafar-Crossby, CEO, Labuan IBFC Incorporated Sdn Bhd

10:55 AM –11:00 AM (Doha) | Webinar Wrap-up