OpEd: COVID-19 Implications for Qatar's Economy
5 May 2020

Thaddeus Malesa, Senior Advisor, Economics & Research of the Financial Sector Office at Qatar Financial Centre (QFC) delves into the impact of global shut-ins, oil GDP, and how Qatar is well-equipped to weather the COVID-19 storm

The ongoing Coronavirus (COVID-19) pandemic continues to fuel a global public health crisis on top of an economic recession. Recently, the International Monetary Fund's (IMF) Managing Director Kristalina Georgieva said a large global contraction in the first half of this year was inevitable. The IMF's April 2020 World Economic Outlook report projects global growth this year to contract by -3%, under the assumption that the pandemic and required containment peaks in the second quarter for most countries in the world and recedes in the second half of this year. This downgrade of 6.3 percentage points from January 2020's forecast, a major revision over a very short period, makes the Great Lockdown the worst recession since the Great Depression.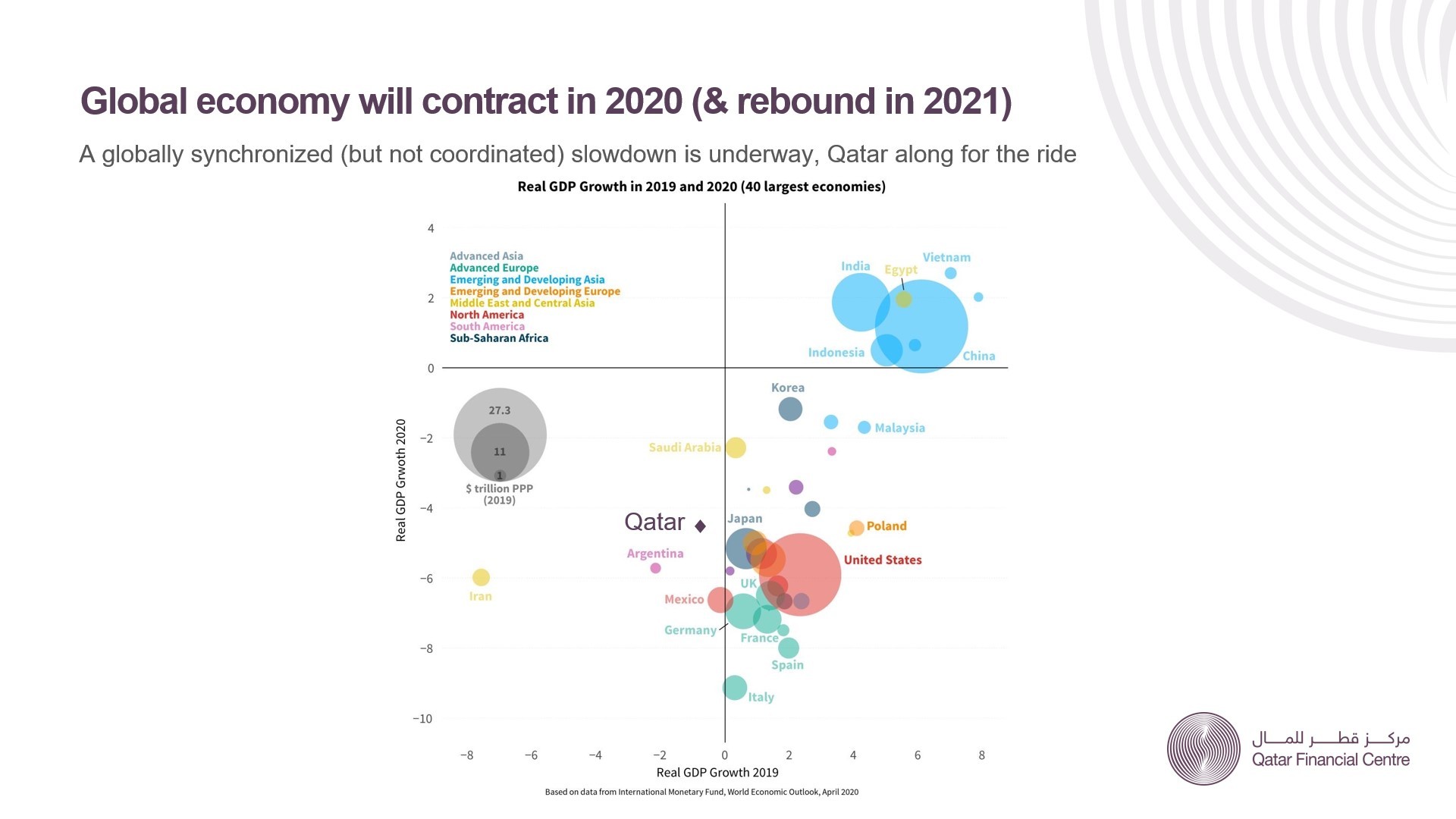 Global shut-ins and oil GDP
Service providers and manufacturers around the world have started to shut-in production because of mandated public health measures, and these global shut-ins are having an immediate impact on global GDP. China's regular 6% quarterly expansion rate went inverse in the first quarter of this year, and those first and second quarter effects are going to drag down GDP for the rest of the year. Ominously, IMF MD Kristalina Georgieva announced that the forecasted global recession may even be too optimistic, especially if shut-ins continue into the 3rd or 4th quarters of the year.
As we look at the biggest oil glut in history, the immediate drop in oil demand generated by COVID-19 shut-ins has been factored into global oil markets at lightning speed, and oil prices have fallen by over 60% since the onset of the virus. The market is pricing in sharply lower demand with little to no discipline from producers to seriously cut off supplies. OPEC expects oil demand to be at its lowest point in 30 years in Q2 2020, and in its latest Monthly Oil Market report projected the call on OPEC to be 19.73 million bpd, down by 9.6 million bpd from Q2 (translating to a 30% drop). Without concerted efforts by producers, this is likely to result in an overhang that could last years.
The impact on Qatar
Qatar is no exception to the majority of large global economies expected to contract this year, with an IMF projection to contract by 4.3% in 2020 due to the ongoing crisis.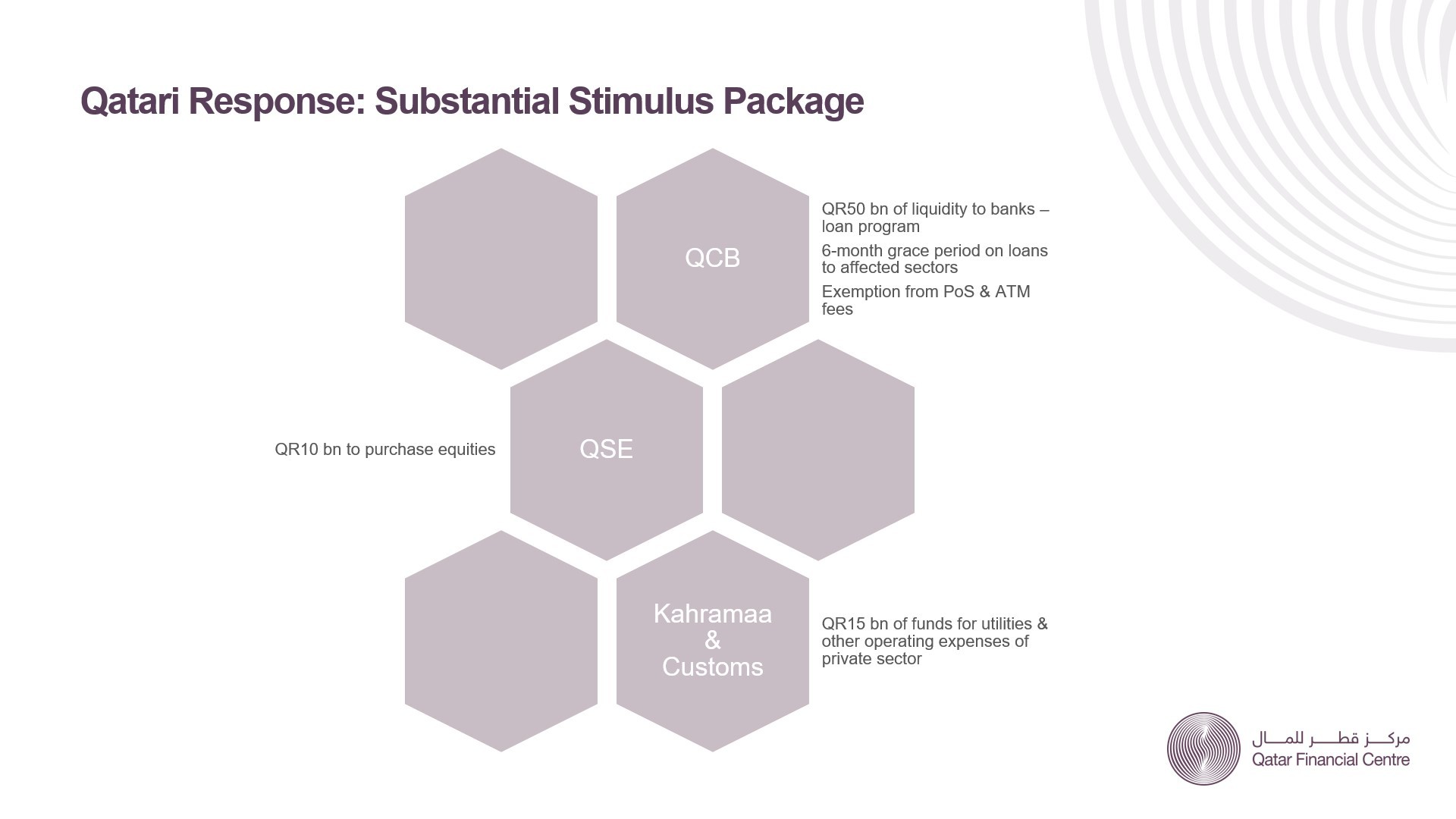 Despite this, Qatar's overall position is vastly better relative to the average energy exporter. As Qatar's economy is strongly connected to its global partners and customers, Qatar will be able to build on its competitive advantage in the country's key resource over the long-term. Over the short and medium-term, Qatar will be fostering and expanding international connections, and it will leverage international holdings to source and extract both resources and services it needs to overcome COVID-19 related challenges and use Qatar Airways Cargo, as well as Milaha to execute this. Qatar Petroleum (QP) and Qatar Investment Authority's (QIA) international footprint will also grow as it takes advantage of international opportunities.
In the long run, QP will be able to improve upon its advantageous position in LNG. Through Qatar's North Field Expansion, once it is awarded on the best possible commercial terms, Qatar will greatly expand its production capacity, gain market share, and retain its position as one of the world's least cost producers. This will happen concurrently as higher cost competitors cancel their projects.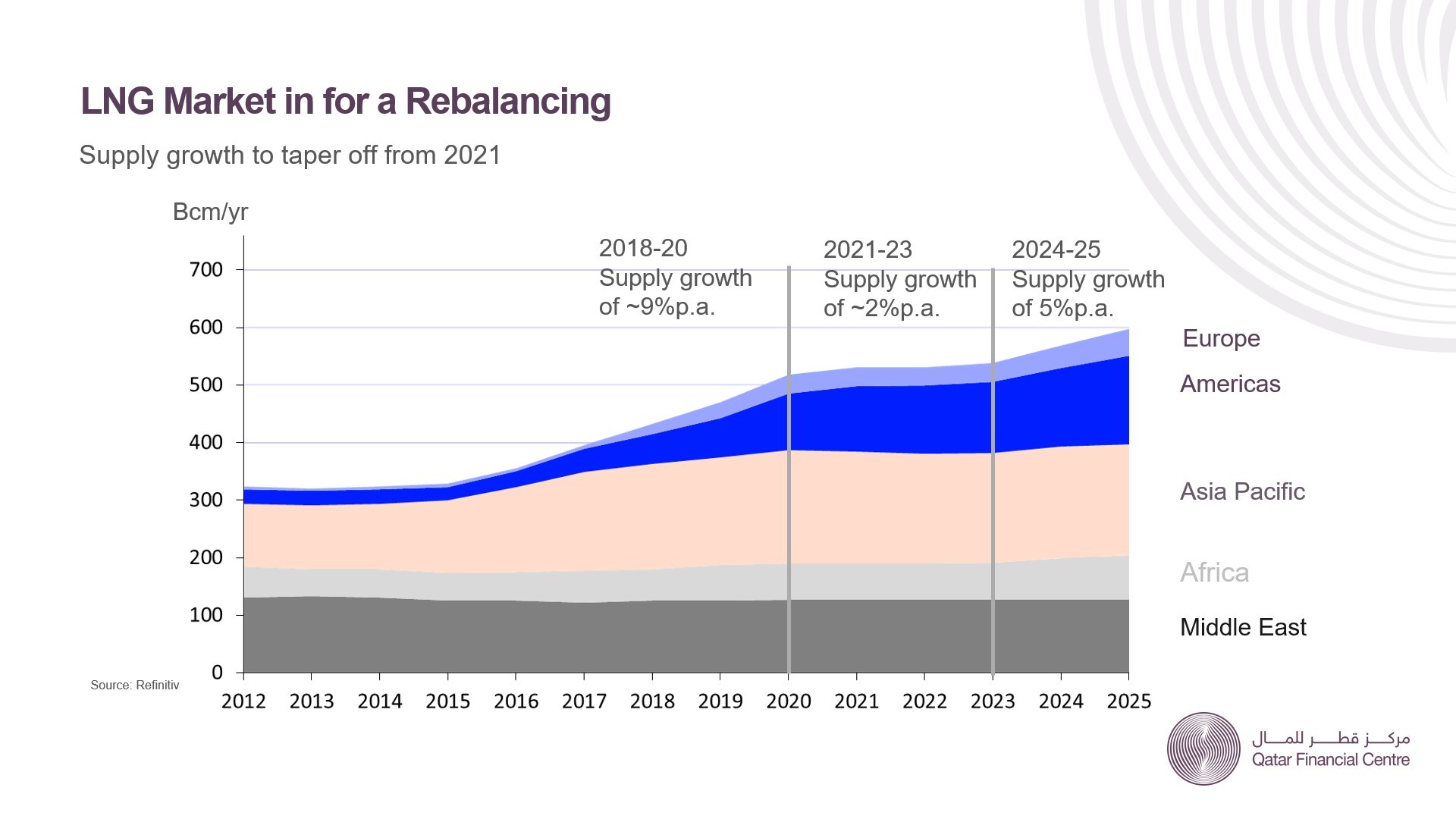 Looking ahead for Qatar
Qatar is incredibly resilient, as we have seen since the onset of geopolitical tensions in 2017, which pushed Qatar to be resourceful and look for hidden opportunities while piecing together disparate connections.
Qatar's immediate economic prospects have been lifted with the multifaceted stimulus plan instated by the government in March, and while we are still looking at a GDP contraction, Qatar will be the only GCC country to still register a fiscal surplus, according to the IMF. After this year, prospects are bright, with the IMF projecting 2021 real GDP expansion at a rate of 5.0%, which will be the fastest in the region. Looking beyond that, with Qatar's resourceful nature and proven adaptability, we can look forward to a prosperous future.